When orthopedic Surgeon K. Donald Shelbourne, MD, began his practice in 1982, the mother of a 15-year-old girl whose anterior cruciate ligament (ACL) he had reconstructed asked him a question he couldn't answer. "She wanted to know what was going to happen to her daughter's knee in 20 years. I had no idea," he says.
So Dr. Shelbourne began a research program to find out what would happen down the road. For 38 years now, he's been collecting data on patient outcomes and factors related to those outcomes, and continually improving treatment for patients at Shelbourne Knee Center based on research results. "What we're doing gives our patients the best chance of having a good outcome, based on our data and research," says Dr. Shelbourne.
The research program covers more than 13,000 patients and focuses mainly on three areas:
ACL reconstruction
Nonoperative treatment of knee osteoarthritis
Knee arthroscopy.
"We constantly look at data from our patients to see how we're doing and challenge ourselves to get even better results," says Rodney Benner, MD, an orthopedic surgeon at Shelbourne Knee Center. As a medical student at Indiana University School of Medicine, Dr. Benner worked in the practice's research program part-time.
Treatment Innovations for ACL Reconstruction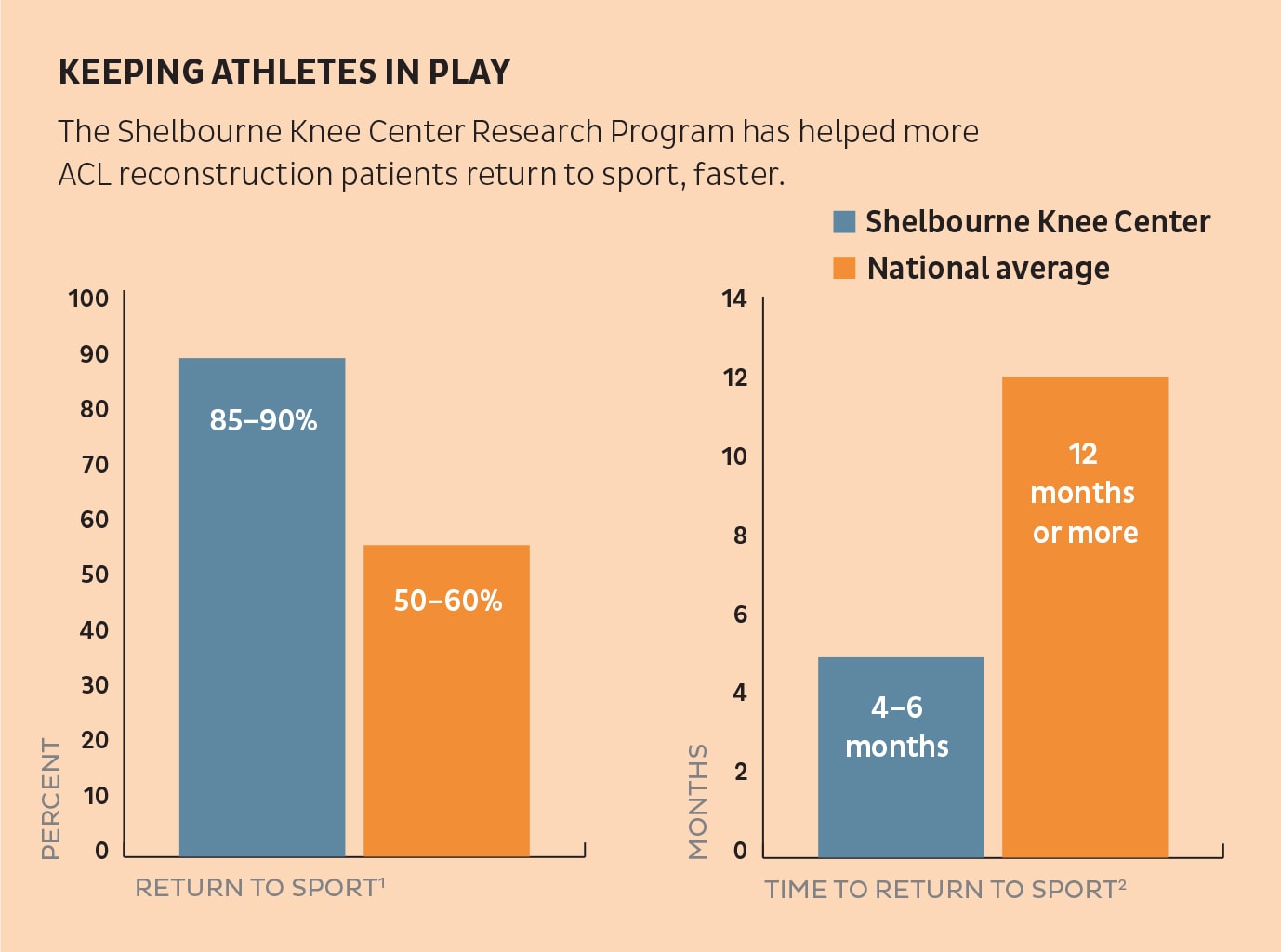 Key improvements in treatment of ACL tears based on research results include:
Preoperative rehabilitation focused on regaining full range of motion (ROM)
Accelerated ACL rehab protocol.
Preoperative rehabilitation became part of the ACL reconstruction process after our research revealed the importance of full ROM and returning the knee to a normal state (except for the ACL tear) before surgery in a good outcome.1,4
Early data followed 502 patients who underwent surgery between 1982 and 1994 at a mean of 14.1 years postoperatively. Results showed that the loss of 3° to 5° of knee extension adversely affected subjective and objective results after surgery, especially when coupled with meniscectomy and articular cartilage damage.4 The preoperative protocol focuses on restoring knee extension, then flexion, equal to the normal knee and then strengthening for good leg control and everyday function.
The accelerated ACL rehabilitation protocol eliminates swelling problems with bedrest and knee elevation above the heart for the first five days.1 The program includes:
Full extension exercises beginning the day of surgery
Hospital stay for 23 hours
Weight-bearing allowed as tolerated for bathroom privileges
Emphasizing ROM exercises for flexion while maintaining full knee extension
Strengthening exercises after full extension and flexion are achieved.
Nonoperative Treatment for Knee OA
Based on our ACL research showing the importance of ROM, Shelbourne Knee Center developed the Knee Rehabilitation Program for Osteoarthritis (OA). Like ACL preoperative rehabilitation, this starts with knee extension, then flexion, followed by strengthening. Results from 396 patients in the OA rehab study show significant improvements in knee extension, flexion, and Knee Injury and Osteoarthritis Outcome Score (KOOS) subjective scores for pain, symptoms, activities of daily living, sport and quality of life. For 76% of patients, improvements were so great that they avoided TKA.3 Read more about the Knee Rehabilitation Program for OA on page 6.
Data Dashboards
Using dashboards filled with data on ACL and TKA patients, Dr. Shelbourne, Dr. Benner and the physical therapists can counsel patients about the typical treatment path and recovery after surgery. Filters include demographic information as well as factors that influence recovery. In ACL reconstruction, for example, those factors include graft source, primary or revision surgery, patellar tendon width and intercondylar notch width.
How We Do Our Research
Dr. Shelbourne and Dr. Benner work with Shelbourne Knee Center's eight physical therapists and athletic trainers to develop and conduct research. The research team also includes:
Research Manager Adam Norris
Research Manager/Medical Writer Tinker Gray, MA, ELS
Two research coordinators, Heather Garrison and Diane Davidson.
Shelbourne Knee Center invites all patients to be part of research, which includes:
Annual email surveys
Objective evaluations (for surgical patients) done during free follow-up visits:

X-rays
Physical examination
Physical testing.
The team reviews research results regularly and updates treatments based on results. Also, the team shares results through international, national and regional presentations and by publishing in medical journals.
---
References
Biggs A, et al. Rehabilitation for patients following ACL reconstruction: A knee symmetry model. North Am J Sports Phys Ther. 2009;4:2-12.
Shelbourne KD, Urch SE. Primary anterior cruciate ligament reconstruction using the contralateral autogenous patellar tendon. Am J Sports Med. 2000;28:651-8.
Benner RW, Shelbourne KD, Bauman SN, et al. Knee Osteoarthritis: Alternative Range of Motion Treatment. Orthop Clin North Am. 2019 Oct;50(4):425-432. doi: 10.1016/j. ocl.2019.05.001. Epub 2019 Aug 5.
Shelbourne KD, Gray T. Minimum 10- Year Results After Anterior Cruciate Ligament Reconstruction: How the Loss of Normal Knee Motion Compounds Other Factors Related to the Development of Osteoarthritis After Surgery." Am J Sports Med. 2009;41(7):1526-1533.
Categories