Demand for total knee arthroplasty (TKA) is expected to soar and is likely to exceed the supply of joint replacement surgeons in the coming years. Shelbourne Knee Center's research-backed Knee Rehabilitation Program for Osteoarthritis (OA) is an effective nonsurgical treatment for most patients with knee OA.
Led by Rodney Benner, MD, the Knee Rehabilitation Program for OA is based on Shelbourne Knee Center's long-term data on ACL reconstruction patients. These data show the importance of full range of motion (ROM) in good long-term outcomes.1 Unlike other rehab programs based on strengthening, the Knee Rehabilitation Program for OA focuses on ROM, followed by strengthening.
"We worked with our physical therapists to determine the functional improvements we could make to improve symptoms before surgery, with the goal of not needing the surgery," says Dr. Benner. "If the patient does need surgery, going in with the best ROM and strength leads to good outcomes and a faster, easier recovery."
Rehab Program Empowers Patients
Laura Bray-Prescott, PT/LATC, is one of the physical therapists who provided input on the Knee Rehabilitation Program for OA and works with these patients, who complete most of their therapy at home. The program focuses on improving extension first, followed by flexion. Once the patient has achieved maximum ROM, strengthening begins.
During the first visit, Bray-Prescott or another physical therapist teaches the patient how to do the exercises and observes the patient as he/she does them. "We make sure patients have a good understanding of what they're doing and why they're doing it, and that they're doing it correctly," she says.
After the first visit, patients do their exercises at home, 3–5 times a day. "Most of our patients love doing therapy at home," says Bray-Prescott. "They miss less work, have less travel and feel more in control."
For patients with a long-term stiff knee, a cortisone injection or pain medicines are often used to manage pain and facilitate physical therapy. Devices such as the IdealStretch or Elite Seat are also used.
Other visits help ensure that patients continue to do the exercises correctly. The frequency of visits depends on the patient's progress and location. Patients who are doing well and don't live in Indianapolis might come in every 2–4 weeks. Patients who live closer and aren't making as much progress might come in once a week. At every visit, the physical therapist spends 45 minutes with the patient.
Post-Rehab Management and Results
Patients who follow the rehab protocol correctly usually see improvements in the first month. Those with a long-term stiff knee may need about 2 months to feel better.
Shelbourne Knee Center discharges patients from the Knee Rehabilitation Program for OA after 2–4 months, but patients need to continue the daily exercises and strengthening at least 3 times a week. "Based on data from our OA rehab study, this nonoperative treatment is a good alternative for patients with knee OA," says Dr. Benner.
Data in the study cover 396 patients enrolled between January 2013 and October 2017. Three-quarters of the patients improved enough with the Knee Rehabilitation Program for OA to avoid TKA. At one month after program completion, patients had improvements in ROM and Knee Injury and Osteoarthritis Outcome Score (KOOS), and they maintained these improvements through one year after program completion.2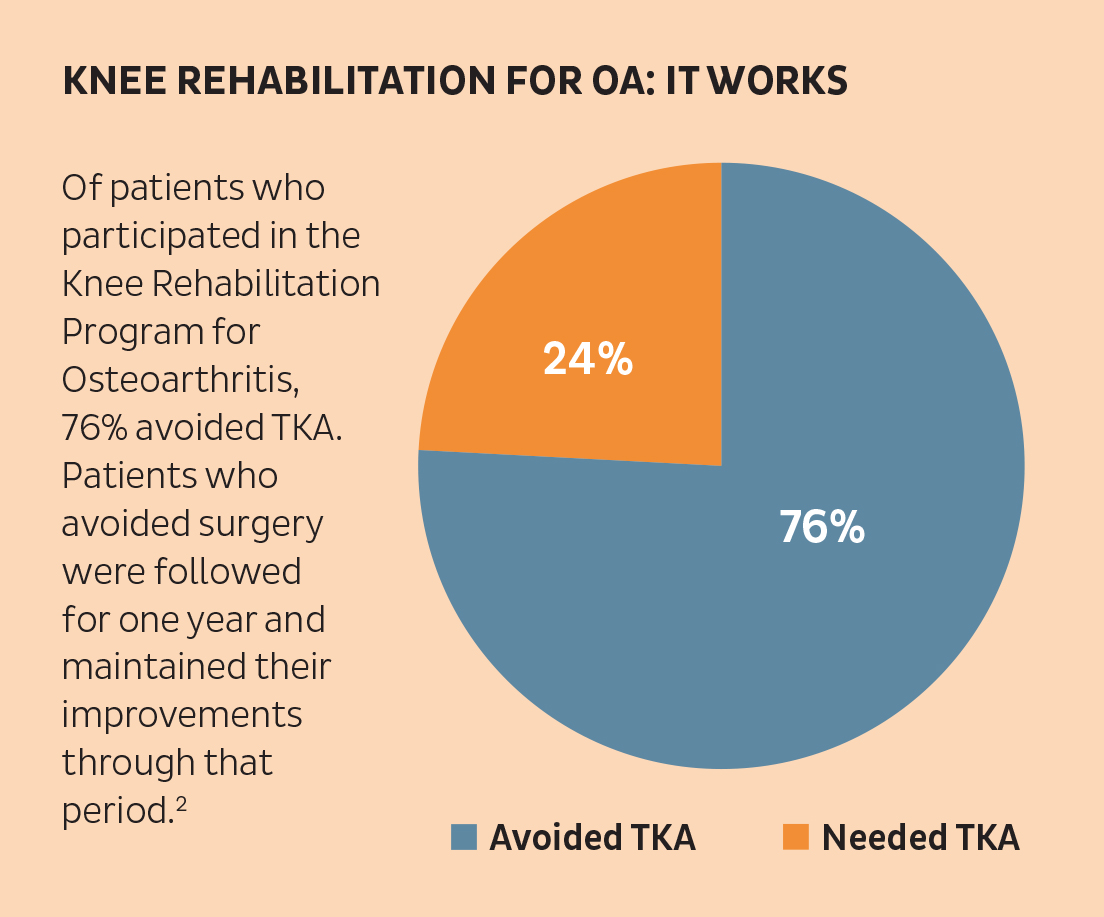 ---
References
Shelbourne DK. Thirty-five and Jennifer Christy. Years of ACL Reconstruction, presentation at Andrews University, February 2018.
Benner RW, Shelbourne KD, Bauman SN, et al. Knee Osteoarthritis: Alternative Range of Motion Treatment. Orthop Clin North Am. 2019 Oct;50(4):425-432. doi: 10.1016/j.ocl.2019.05.001. Epub 2019 Aug 5.
Categories