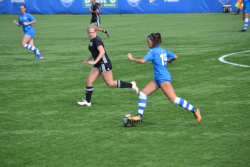 Darby Bevis has been playing soccer since she was three years old. "Soccer is a really creative game," says the midfielder from Mooresville, North Carolina. "That's why I love it." A high school senior, Darby plays mostly for the Community School of Davidson and the Charlotte Soccer Academy.
During each of four years on her high school soccer team, Darby has been recognized as an All-Conference player by the North Carolina High School Athletic Association (Principal Athletics Conference 7). She's also played on North Carolina's Olympic Development Program team, and has competed in Denmark, Germany and Sweden.
Carried off the Field
In Fall 2018, Darby was making plans to play soccer in college. A few weeks before Gardner-Webb University (Boiling Springs, North Carolina) signed her, she tore her ACL.
It happened during a practice on October 23rd. Darby received the ball and pivoted, just like she had done thousands of times before. But this time, her left knee collapsed.
"I couldn't walk and the coach had to carry me off the field," says Darby, who knew her injury was serious.
While Darby had never had a serious injury before, she was seeing a sports chiropractor to enhance her performance and deal with minor problems. She and her parents made an appointment with the sports chiropractor. Then they went to see an orthopedic surgeon in Charlotte, North Carolina, where an MRI showed that she had torn her ACL.
Darby's sports chiropractor referred her to K. Donald Shelbourne, MD, orthopedic surgeon at Shelbourne Knee Center. "He said that Dr. Shelbourne was the best of the best, and the only doctor he recommended," says Darby.
A Worthwhile Journey
Mooresville is nearly 600 miles from Indianapolis, home to Shelbourne Knee Center. But Darby and her parents made the journey.
Dr. Shelbourne told Darby that she needed to start pre-op rehab to improve her range of motion (ROM). "If patients don't have full ROM in the knee prior to surgery, the ability to get full ROM back after surgery is compromised," says Dr. Shelbourne. Full ROM before surgery also speeds up recovery time and allow patients to more easily achieve their goals. In addition, pre-op rehab helped Darby get ready mentally for surgery and the recovery process.
Darby went back to Indianapolis for surgery in December, during her winter break. "An ACL tear isn't an emergency. We always try to accommodate the schedules of athletes," says Dr. Shelbourne. He performed the ACL reconstruction using a contralateral patellar tendon graft, the strongest graft available.
Awesome Care
Because Darby lives so far from Shelbourne Knee Center, she's been going to the center about once a month to see Dr. Shelbourne and her physical therapist. She does the rest of her physical therapy at home and with a local physical therapist who follows Dr. Shelbourne's protocol.
At nine weeks post-op, Darby's allowed to do some soccer drills with the ball now and she's working on building strength in her legs.
"It's been really hard, but it gets easier each day," says Darby. "Dr. Shelbourne is really knowledgeable and the physical therapists are awesome. They've been doing the same thing for a long time and are very good at it."
Darby hopes to be cleared for return to sport sometime in May—about 5 months after her ACL reconstruction. At most orthopedic practices, it takes athletes up to a year, sometimes more, to return to sport. Darby looks forward to joining the women's soccer team at Gardner-Webb University in the fall.