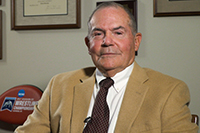 Life was great for Wade Rademacher, MD, for about the first 10 years of his retirement. The orthopedic surgeon was spending more time with his wife, Phyllis, and working on his 10-acre property in Carmel, Ind. Dr. Rademacher repaired fences and the barn, took care of a horse, and did home maintenance. "My health improved amazingly with hard work and fresh air," he says. More time to play golf, his lifelong passion, and to travel with Phyllis, were other benefits of retirement.
Then, Dr. Rademacher's right knee started hurting. Over the next few years, taking care of his property, going up and down stairs, and even walking became painful. Dr. Rademacher continued to play golf, but he wasn't enjoying himself. "I would grit my teeth and bear it," he says. "At the end of the round, it really hurt and I was not making good shots."
Time to Seek Help
As a general orthopedic surgeon for 28 years, Dr. Rademacher had performed many total knee and hip arthroplasties, along with pediatric, spine and other procedures. So he knew that he had severe osteoarthritis. "It came to the point where I felt I would have to have surgery," says Dr. Rademacher.
Dr. Rademacher sought help from his long-time colleague, K. Donald Shelbourne, MD, orthopedic surgeon at Shelbourne Knee Center. Dr. Rademacher met Dr. Shelbourne when he was an attending physician at St Francis Hospital in Beech Grove, Ind. Dr. Shelbourne, who was in medical school and working in the hospital's emergency room, called Dr. Rademacher to consult on orthopedic cases. Over the years, the two orthopedic surgeons kept in touch, including by playing golf together.
"I went to see Dr. Shelbourne, thinking he would do an arthroscopic procedure. According to the literature, that would give me 6-12 months before I needed a knee replacement," says Dr. Rademacher.
A Surprising Alternative to Knee Replacement
But Dr. Shelbourne suggested an alternative to total knee arthroplasty (TKA): The Knee Rehabilitation Program for OA. Developed at Shelbourne Knee Center, the program provides a non-surgical solution for many patients with stiff, arthritic knees.
"I told Wade that if he regained his knee's full extension and flexion and recovered some muscle strength, I thought that his pain would subside and he would be able to walk and probably avoid surgery," says Dr. Shelbourne.
This was surprising to Dr. Rademacher. "The literature talks about post-op rehab of the knee, not pre-op. In my practice, I did a lot of total knees. Never once did I consider talking to the patient about going through a program like Dr. Shelbourne has. I just told the patient that he or she needed a total knee replacement."
Research-Based Knee OA Rehab Program
Unlike other rehab programs where patients with knee OA are sent for strengthening therapy, the Knee Rehabilitation Program for OA focuses on range of motion (ROM) first. This is based on the practice's long-term data on ACL reconstruction patients, which shows the importance of full ROM in good long-term outcomes (1). Only after maximizing ROM does the patient move on to strengthening activities.
With guidance from his personal physical therapist, Scott Bauman, PT, DPT, Dr. Rademacher did most of his physical therapy at home, 3–5 times each day. At a few office visits, Bauman monitored Dr. Rademacher's progress.
Within three months, ROM in Dr. Rademacher's right knee extension improved by 7 degrees and his flexion improved by 16 degrees, from:
3 degrees of hyperextension and 124 degrees of flexion before starting the program to.
4 degrees of hyperextension and 140 degrees of flexion after completing it.
The strength in his right knee increased from 80% to 88%.
The Knee Rehabilitation Program for OA isn't easy, says Dr. Rademacher. "It requires a tremendous amount of dedication and persistence." But like most patients who complete the program, Dr. Rademacher was able to avoid TKA. Shelbourne Knee Center's OA Rehab Study shows that only 24% of 396 participants went on to have surgery (1).
Life is Great Again
About three years after completing the Knee Rehabilitation Program for OA, Dr. Rademacher is doing great. "I have a little pain in my knee, but I can walk without a limp, play 18 holes of golf, and go up and down stairs with no trouble," he says. "I don't take any medications."
Dr. Rademacher does the flexibility exercises and strengthening activities from the program five days a week. The recommended maintenance program is at least 3 times a week.
Three years later Dr. Rademacher and his wife visited Gettysburg National Military Park, where he was able to walk the Civil War battlefield. He followed that with a golf trip to Palm Springs, Calif., where he played two rounds a day.
For more information about the Knee Rehabilitation Program for OA, call 888-FIX-KNEE.
---
References
Shelbourne DK. Thirty-five Years of ACL Reconstruction, presentation at Andrews University, February 2018.
Shelbourne DK. Nonoperative Treatment of Knee Osteoarthritis, presentation at the Herodicus Society Meeting, June 2018.