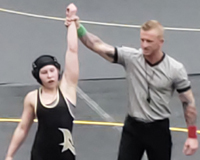 Ten months after tearing her right anterior cruciate ligament (ACL) and her meniscus, wrestler Sierra Pienkowski competed in the Indiana High School Girls Wrestling State Finals. She came in seventh in her weight class. The next month, Sierra took first place in the Indiana Frosh-Soph State Wrestling Championships.
The grit that enabled Sierra to participate in a mostly male sport also helped her recover from surgery at Shelbourne Knee Center and return to wrestling. The 16-year-old from McCordsville, Indiana wrestles for the Mt. Vernon High School Marauders and the Indiana Girls Wrestling all-star team, IGNITES.
Proving Girls Can Be Wrestlers
Sierra started wrestling in 6th grade, when she saw a sign-up table for the wrestling team. The coaches were skeptical about Sierra's interest in wrestling, since no girl who joined the team before had ever stayed for the season. But Sierra joined—and stayed.
"Boys are always saying they're so much physically stronger than girls. I wanted to prove them wrong," says Sierra. "I wanted to show them that a girl can do whatever a boy can do and do it better in certain ways."
Sierra was usually the only girl on her middle- and high-school wrestling teams, and always one of the only girls at matches against other teams. Coaches of other teams sometimes refused to let her wrestle boys. And some boys told Sierra that she shouldn't be in a "boys" sport.
Despite getting banged up and bruised, Sierra always remembered her goal. She kept wrestling and often beat the boys in matches. In high school, she joined IGNITES to wrestle at the state level in addition to competing for her school.
Toughing it Out Doesn't Work
During her first match of the 2019 state tournament, Sierra twisted her knee badly and screamed. The coaches had to help her off of the mat.
"Sierra was bound and determined to walk it off. She didn't want to go to a doctor," says her mom, Cricket Bedwell. For the next week and a half, Sierra used crutches and waited for her knee to feel better. It didn't.
Finally, Cricket made an appointment for Sierra to see K. Donald Shelbourne, MD, an orthopedic surgeon at Shelbourne Knee Center. As an ultrasound technologist at Community Hospital East, Cricket had heard great things about Dr. Shelbourne, whose Shelbourne Knee Center is part of the same healthcare system, Community Health Network. In addition, a radiologist at Community Hospital East told Cricket about his excellent experience with Dr. Shelbourne. Mother and daughter felt confident they had made the right choice.
Fellow Wrestler Provides Reassurance
Dr. Shelbourne examined Sierra's knee and diagnosed a torn ACL. As a fellow wrestler who had also torn his ACL, Dr. Shelbourne understood Sierra's situation. He tore his ACL playing football at Wabash College, where he was also captain of the wrestling team and winner of an NCAA Post Graduate Scholarship in wrestling. He even showed Sierra his surgical scar.
"As soon as Dr. Shelbourne told me how long he'd been doing this, and that he was a wrestler, I trusted that he could fix my knee," says Sierra.
The Best Treatment for a Young Athlete
An MRI confirmed Dr. Shelbourne's diagnosis and showed a meniscus tear. About 50% of patients with ACL tears also have meniscus tears, whether the ACL injury is acute, subacute or chronic, according to Shelbourne Knee Center research. Most of these meniscus tears are asymptomatic, and don't require treatment.
But Sierra had a bucket-handle meniscus tear, which prevented her from straightening her knee and caused pain and swelling. "We needed to repair the meniscus before reconstructing Sierra's ACL," says Dr. Shelbourne. Using his two-stage meniscus repair and ACL reconstruction process, Dr. Shelbourne performed arthroscopic surgery to repair the meniscus in February 2019 and ACL reconstruction in March 2019.
During the ACL reconstruction, Dr. Shelbourne took a tendon (graft) from Sierra's left knee to replace the torn ACL in the right knee. "Young competitive athletes like Sierra need the best possible procedure available," says Dr. Shelbourne. "Using a tendon from the opposite knee allows for unrestricted rehabilitation and provides a predictable return to normal strength in both knees." Sierra did pre-op and post-op therapy, guided by her personal Shelbourne Knee Center physical therapist.
A Safe, Swift Return to Wrestling
Parents of other wrestlers had told Cricket that it could take two years before Sierra was ready to return to wrestling. After her ACL reconstruction surgery, Sierra began to doubt that she would be able to return to wrestling at all.
"But Dr. Shelbourne was 100% right about how things would go and the timeframe," says Sierra.
In September 2019, six months after her ACL surgery, Sierra was back on the wrestling mat. By November, she was fully back to sport. She had her first match in December and in the next two months she competed in the state finals and the Indiana Frosh-Soph State Wrestling Championships.
"Trust Shelbourne Knee Center, and do exactly what they tell you," says Sierra. "They know what they're talking about." Sierra is currently looking at colleges, where she plans to continue wrestling while she completes a pre-veterinary program.