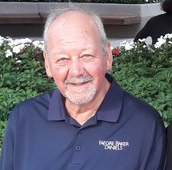 When David Huxtable's left leg started collapsing every time he stood after a total knee replacement, he knew that something was wrong. "Every time I took a step on my left leg in physical therapy, my leg would pop out sideways," says David, who is 70 years old and lives in Lafayette, Ind. David's pain was more severe than it had been before the procedure.
Four years earlier, the retired aerospace engineer had his right knee replaced, so he knew that what he was experiencing wasn't normal. The surgeon who performed the procedure told David that nothing was wrong, and he needed to build up his muscle strength through physical therapy. But more physical therapy didn't make David's knee stronger or more stable.
More Opinions Offer a Solution
"I needed to go see somebody else. I decided to get a second, third, and fourth opinion," says David. First, David went to see Orthopedic Surgeon Rodney Benner, MD, at Shelbourne Knee Center. "The new knee didn't fit well, and Mr. Huxtable's ligaments were too loose. This made David's knee unstable and painful," says Dr. Benner.
The only solution, says Dr. Benner, was a second surgery—revision total knee replacement. With one doctor saying everything was fine and another that he needed another surgery, David went to see two more orthopedic surgeons. They both agreed with Dr. Benner about the need for revision surgery. "I decided I would entrust Dr. Benner with the task of doing the revision to my knee," says Huxtable.
Experience in Revision Surgery Ensures a Good Result
Unlike many orthopedic surgeons who do total knee replacement, Dr. Benner also regularly performs revision surgery. This is a longer, more complex procedure than the original knee replacement. Removing some or all of the original implants and replacing them with new ones requires extensive planning and specialized expertise. When Dr. Benner did David's revision surgery on August 14, 2017, he used specialized implants and tools to give David a good result.
A Smooth Recovery
"I woke up afterward and everything was fine," says David. "The job Dr. Benner did was remarkable. I did not need to take a single pain killer." David had needed pain medications after his other knee replacements.
Shelbourne Knee Center's post-op process for knee replacements focuses on minimizing pain and swelling and facilitating healing. The process includes:
A Continuous Passive Motion machine that keeps the knee elevated and continuously moving at a small degree of flexion.
A compression stocking.
A Cyro-Cuff, to provide cold and compression. K. Donald Shelbourne, MD, orthopedic surgeon and founder of Shelbourne Knee Center, invented the Cyro-Cuff.
Lying down with the leg elevated for the first week after surgery.
A post-op rehab program that focuses on restoring range of motion before strengthening.
David did post-op rehab for about six months. He had no problems.
"Dr. Benner and the staff at Shelbourne Knee Center know what they're doing," says David. "Dr. Benner was honest with me, and he's easy to talk to."
David's Result
Within two months of his revision surgery, the range of motion in David's left knee was equal to his right knee. In your knee, range of motion is how far you can straighten and bend your knee. One of the goals of physical therapy after knee replacement is to have equal range of motion in both knees.
David's quality of life rose from 6 (on a scale of 1–100) before surgery to 100 a year later. He had less pain and other symptoms and was able to return to his everyday activities and other things he liked to do:
Pain score:

Before surgery: 69
After surgery: 100

Symptoms score:

Before surgery: 46
After surgery: 96

Activities of daily living:

Before surgery: 78
After surgery: 100

Sport:
Return to Normal Life
Since his revision knee replacement, David has been able to travel again and enjoy life. He and his wife Darlene have made several trips to Florida, where they plan to move soon. They've also visited San Diego, where they lived before coming back to Indiana.
"Recently, I spent six hours walking around at the Indiana County Fair, with no problem whatsoever," says David.