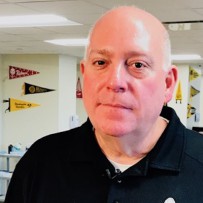 Kevin Ply has been a firefighter since 1989, but pain in his right knee almost forced him out of helping people in dangerous situations and into early retirement.
As a fire chief, Ply's work is mostly administrative. His knee pain was preventing him from making occasional runs on fire trucks or ambulances. More importantly, Ply knew that he wouldn't be able to pass his fire department's annual physical abilities test, which includes carrying a heavy pack up to the third floor. "I couldn't carry my infant grandkid up the stairs," says Ply, who is 54 and not ready to retire.
Ply had been having pain for about two years before he went to an orthopedic surgeon near his home in Lafayette, Ind. in March 2017. An MRI showed that he had a medial meniscus tear and arthritic changes in his knee. After arthroscopic surgery to remove the meniscus tear, the pain returned. A cortisone shot provided temporary relief, but the next shot didn't help at all.
A Thorough Second Opinion
"I started thinking about another option," says Ply. Based on the recommendation of several firefighters, he went to Shelbourne Knee Center for a second opinion.
Ply's first appointment lasted nearly two hours. "I was impressed at how thorough they were," he says. The evaluation included a detailed medical history with a physical therapist, X-rays on both knees, which the other practice hadn't done, and an exam by Orthopaedic Surgeon Rodney Benner, MD.
Dr. Benner showed Ply his X-rays and recommended trying Shelbourne Knee Center's research-based rehab program for knee osteoarthritis to decrease symptoms and improve function before considering total knee arthroplasty (TKA).
"We knew that Mr. Ply could be a candidate for surgery on the basis of his X-rays, which showed severe joint space narrowing and osteophytes in his right knee," says Dr. Benner. "However, many severe osteoarthritis patients do well with non-surgical management."
One study conducted at Shelbourne Knee Center shows that only 24% of patients who complete the rehab program require surgery (1).
Unfortunately, Ply's pain continued to worsen and he and Dr. Benner decided TKA was the best option. Dr. Benner performed the procedure on June 27, 2018.
Personalized Rehab
Physical therapist Bill Claussen, MPT worked closely with Ply from pre-op through post-op rehab. The pre-op rehab improved Ply's range of motion (ROM) and strength. "Rehab before surgery prepared Kevin to do well after surgery by maximizing his function and letting him get comfortable with the physical therapy regimen," says Dr. Benner. This facilitated a better surgical outcome and a faster, easier recovery.
After surgery, Ply continued to improve his ROM by using a continuous passive motion machine in the hospital and then at home for seven days. He also began his home-based physical therapy, based on a personalized program Claussen developed for him.
Claussen taught Ply what to do and called to check on how he was doing regularly. Ply also had office visits at 1, 2, and 4 weeks, and at 2 months (when this story was written). He'll continue with office visits every few months until 12 months after his surgery.
"I like the personal touch, and I like that Bill pushes me," says Ply.
Kevin Ply's Outcome
About two months post-op, objective testing and the self-reported Knee Injury and Osteoarthritis Outcome Score (KOOS) survey showed considerable improvement:
ROM:

New knee:

5 degree of hyperextension to 133 degrees of flexion.

Normal knee:

5 degrees of hyperextension to 139 degrees of flexion.

KOOS survey (higher scores are better):

Activities of daily living:
Return to Work and Leisure Activities
Shelbourne Knee Center is about 65 miles away from Ply, a drive of about 1 hour and 20 minutes. But he didn't mind traveling to Indianapolis. "I was disappointed that I did not have that level of care locally," he says. "I would recommend Shelbourne Knee Center to anybody."
Six weeks after his knee replacement, Ply returned to work. Each year, he takes a 1,600-mile motorcycle trip to Michigan's upper peninsula with other firefighters. "I'm optimistic that I'll be able to do that this Fall," he says.
To schedule an initial appointment or second opinion, please call 888-FIX-KNEE. To refer a patient for a consultation, visit https://fixknee.com/for-physicians.
---
Reference
Shelbourne DK. Nonoperative Treatment of Knee Osteoarthritis, presentation at the Herodicus Society Meeting, June 2018.