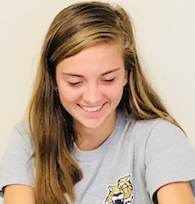 Like her parents, Jessica Lehmkuhler is a talented tennis player. Her mom was on her college tennis team and her dad played for his high school. The 15-year-old was the #2 singles tennis player during her freshman year at Lebanon High School, in Lebanon, Ind.
Jessica is also on her high school soccer team—she was expected to be a starter this year—and had recently made the travel team at Zionsville Youth Soccer Association. 
ACL Tear Sidelines Jessica
Then an anterior cruciate ligament (ACL) tear put Jessica on the sidelines of both the soccer field and the tennis court. During the second soccer game of the high school season, Jessica turned to make a pass and the defender ran into her. "Jessica was devastated to know it was an ACL tear," says her dad, Jon Lehmkuhler. "She worked so hard to make a starting role."
The ACL is a rope-like tissue at the front and center of the knee that connects the shinbone and the thighbone. It helps keep the knee stable.
Females are at a higher risk for ACL injuries than males because, on average, they have a smaller ACL.
Family Searches for Best Treatment
At first, Jessica saw a local sports medicine doctor, who gave her a list of surgeons. But Jon wanted to make sure that Jessica had the best knee surgeon available. He talked to people he knew who have had knee surgery, and did research online.
Jon heard and read about Orthopedic Surgeon K. Donald Shelbourne, MD, who has done more than 7,000 ACL surgeries and developed a proven process to help athletes heal and return to sport faster.
"I was assuming that, given Dr. Shelbourne's reputation, he was pretty much booked solid," says Jon. "But we were able to get in."
Proven Process for Treating ACL Tears
A few days later, Jessica and Jon met with Dr. Shelbourne and one of his physical therapists. "I really liked hearing that Dr. Shelbourne does so much with research. I'm a chemist so when I hear people talking about data, it sticks with me," says Jon.
Dr. Shelbourne has been tracking patient outcomes for 36 years, and using research data to improve treatment for ACL tears and other knee problems. Key research-based improvements include:
Pre-operative rehabilitation (physical therapy).
Prevention of post-op swelling and an accelerated ACL rehab protocol.
Use of the strongest graft available for ACL reconstruction: a knee (patellar) tendon graft from the non-injured knee.
"We have more outcomes data, experience, and research than anyone else," says Dr. Shelbourne.
A Quicker Return to Sport
The idea of being sidelined for 6–12 months—the amount of time it takes most athletes to return to sport after ACL reconstruction—was a big concern for Jessica. "When she heard Dr. Shelbourne's group had success getting people back in 4–6 months, she was very happy," says Jon.
Jessica was also afraid she'd re-injure her ACL, or injure her other ACL. Along with enabling a faster return to sport, the use of a knee tendon graft also reduces the risk of re-injury and ACL tears on the normal knee.
"Dr. Shelbourne really listened to what Jessica wanted and to her concerns," says Jon. "He was talking about the same things we wanted to happen."
"What Jessica wants is important to us. Patients have the best outcomes when we work together as a team," says Dr. Shelbourne.
Knowing What to Expect Eases Recovery
Eight days after Jessica's surgery on September 19, 2018, she was back at school. Knowing what to expect and working with one physical therapist is easing her recovery.
Dr. Shelbourne and Jessica's personal physical therapist, Scot Bauman, PT, DPT, explained the process from physical therapy before surgery through return to sport. Doing physical therapy before surgery prepared Jessica physically and mentally for surgery and the recovery process. "Scot understands Jessica's situation. That makes it easier for Jessica to talk to him about how she feels," says Jon.
A Bright Future
For now, Jessica is supporting her soccer team from the sidelines. But she's working hard on her physical therapy to return to both of her sports.
"Jessica's willing to do anything she can to get back fully to soccer and tennis. She realizes the better she sticks with her regimen, the faster she'll be back," says Jon. While she's only 15, Jessica is thinking about studying business and law in college, and playing soccer and/or tennis.
"It's scary having a child with an ACL injury," says Jon. "I saw friends in school years ago with ACL tears who had big scars and long recovery periods. Having somebody like Dr. Shelbourne who's focused on one thing and has a solution he can prove is very reassuring."