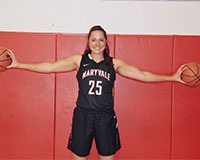 Claire Neff grew up with a ball in her hand, not a Barbie doll. Surrounded by three older sisters who all played basketball, the 17-year-old from Bel Air, Maryland started playing basketball at age 5.
As a player for Maryvale Prep, Claire scored 1,000 points. An article on the Interscholastic Athletic Association of Maryland website called her a "junior basketball standout."
Claire plays for Maryvale Prep and for the Philadelphia Belles, the nation's first and top girl's travel team. She also plays or has played volleyball and lacrosse and does track and field.
On the last day of a basketball tournament in Houston, Texas, Claire pivoted to catch a pass. The temporary floor built for the tournament gave way and she injured her right knee. "I fell to the floor as the pain rushed through me. My kneecap was on the side of my knee," says Claire. The trainer reduced Claire's dislocated patella.
Claire flew back to Maryland that night. The next day, she and her parents went to see an orthopedic surgeon who ordered an MRI and X-rays and diagnosed a torn anterior cruciate ligament (ACL). The surgeon scheduled ACL reconstruction surgery and sent Claire to physical therapy to prepare her knee.
Getting a Second Opinion
But Claire and her parents wanted a second opinion. Claire's oldest sister Rachel had injured her ankle in high school and been mis-diagnosed with a hairline fracture that turned out to be a displaced fracture requiring surgery.
Claire's parents did web research about ACL reconstruction and both found K. Donald Shelbourne, MD, an orthopedic surgeon at Shelbourne Knee Center. They liked what they read about Shelbourne Knee Center's ACL treatment philosophy and treatment process.
Traveling to Indianapolis
But Indianapolis is a 10-hour drive from Bel Air, Maryland. The Neffs were convinced to make the trip after reading about Darby Bevis, a soccer player who had traveled from North Carolina to Indianapolis for ACL treatment. Claire's mom also talked to Darby's mom about her family's experience at Shelbourne Knee Center.
"Darby's mom had nothing but great things to say to my mom about Shelbourne Knee Center. She said it was worth the drive," says Claire.
Two weeks before her scheduled surgery and about three weeks after her injury, Claire and her parents drove to Indianapolis for a second opinion. Dr. Shelbourne always encourages injured athletes to get a second opinion about treatment options. He notes that people usually put more effort into buying a car than they do into finding the best treatment. "If you buy a car and don't like it, you can buy another car. If your knee surgery doesn't work out, you can't go back and try it again," says Dr. Shelbourne.
During the appointment, the Neffs decided that they wanted Dr. Shelbourne to perform the surgery. Since Claire was already doing physical therapy, her knee was ready. Surgery was scheduled for June 10th, a few days after the initial consultation.
The family rented a place to stay in Indianapolis through Airbnb for the first seven days of bedrest after surgery. That week was difficult, admits Claire. Since surgery, she's been doing her exercises rigorously and has gone back to Indianapolis for two follow-up appointments.
A Faster and Easier Recovery
Five weeks after surgery, Claire says she's walking like she was never injured and people can't believe how well she's doing. "My experience has been 100% better, with a faster and easier recovery than other people I know who tore their ACLs," she says. Other people Claire knows are still having knee problems more than a year after tearing their ACLs.
Claire has started riding a bike to strengthen her knees and can practice on her own now. "I've been shooting every day, close to 500 shots a day. I'm getting there," she says.
Claire, now a college sophomore, is playing basketball for Division 1 James Madison University, where she continues to impress coaches and fans. Claire's not sure what she wants to study yet but she knows that she wants to be a coach. "I want to find a major that will help me get there," she says.