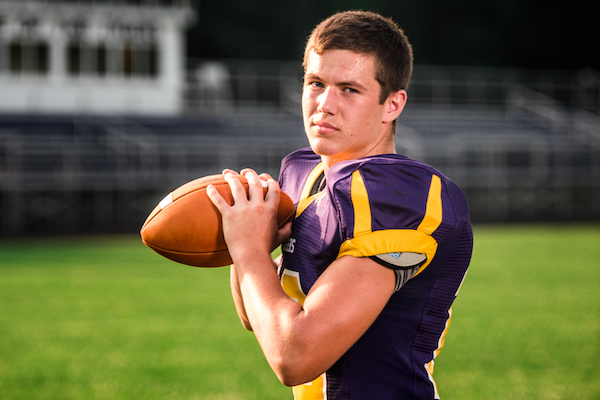 At age 15, Noah Snodgrass was selected as the starting quarterback of the varsity team at Hagerstown Junior Senior High School. The high school sophomore had to work extra hard to earn this place on the Tigers because his dad, Scott, is the head football coach. Noah had made the junior varsity team in his freshman year and is also a sprinter on the track team.
When Noah tore his ACL in late October 2018, he didn't plan to be sidelined for long.
Playing in the State Tournament
During the last game of the regular season, Noah got hit in the side of his left knee. After the trainer examined and taped his knee, Noah got back in the game.
The Tigers won that game, tying with another team to become the Tri-Eastern Conference champions. They headed for the Indiana Sectionals, part of the state football tournament, with Noah as the starting quarterback. Noah played in the first game, which the Tigers won. Then he injured his knee again during practice, this time more seriously.
"Noah planted his foot to cut and went down on the ground. He turned pale, and waved at me to come over. I knew he was really hurt," says Scott. The team doctor examined Noah and ordered an MRI, which showed a torn anterior cruciate ligament (ACL) and a torn meniscus.
Searching for the Best Care
Noah's parents wanted the best care for their son. As a physical therapy assistant, his mom, Angela, knew that rehab would take time and had to be done right. And Scott had seen the problems some athletes had after treatment for ACL injuries.
"We wanted to find the best of the best," says Angela. She asked colleagues for recommendations and several people told her about K. Donald Shelbourne, MD, orthopedic surgeon at Shelbourne Knee Center. Angela looked up Dr. Shelbourne online and liked what she saw.
Scott knew about Dr. Shelbourne, too, because he was the team physician at the University of Indianapolis when Scott played football there. "I knew Dr. Shelbourne was really good," he says.
Finding the Right Place
Angela and Noah went to see Dr. Shelbourne and physical therapist Bill Claussen, MPT, on October 30th. "Dr. Shelbourne laid out his proven process. He was very confident and his return to sport rate is very high," says Angela. "I knew that we had made a good decision."
The return to sport rate for patients at Shelbourne Knee Center is 85–90%,(1) compared to a 50–60% average for most orthopedic practices.
The average time to return to football after ACL surgery is 4-6 months, (2, 3)compared to an industry average of 9-12 months.
"I told Noah and Angela that it would be okay if he had the surgery and followed the rehab protocol," says Dr. Shelbourne. "Our process is designed to help athletes return to sport."
A Proven Process
Pre-op rehab, use of a contralateral patellar tendon graft, and accelerated post-op rehab all contribute to higher and faster return to sport rates at Shelbourne Knee Center.
"I knew that gaining the most range of motion prior to surgery would give us a better outcome," says Angela. "Bill helped lay out a protocol for us, which we followed exactly."
Noah regained his full range of motion before surgery, which Dr. Shelbourne performed on November 19, 2018. "They sent us home with everything we needed to make sure Noah healed quickly," says Scott.
The Snodgrass family lives in Economy, Ind., about an hour from Shelbourne Knee Center in Indianapolis. They don't mind the travel because they wanted "the best of the best" for Noah, says Angela.
Returning to the Game Better Than Ever
Noah is working hard to get back to football as quickly as possible. He hopes to participate in football camps this spring, and return to the track team. Noah's biggest problem, say Angela and Scott, is not doing more than he should be doing as he continues to heal.
From his initial examination after the injury to two months post-op, Noah's ROM in the ACL reconstructed knee improved 7 degrees for extension and 15 degrees for flexion. This represents a return to his normal knee ROM. In the graft-donor knee, Noah also returned to normal pre-op levels after surgery for both extension and flexion.
Noah's leg strength was 100% in the ACL reconstructed knee and 84% in the graft-donor knee, compared to pre-op normal values.  He continues to work on strengthening his graft knee to achieve symmetry in both knees.
"This experience made Noah want to be successful in football even more," says Scott. "I think he's going to come back better than ever."
---
References
Shelbourne KD, Sullivan AN, Bohard K, Gray T, Urch SE. Return to basketball and soccer after anterior cruciate ligament reconstruction in competitive school-aged athletes. Sports Health. 2009;1:236 – 241.
Shelbourne KD, Gray T.  Anterior Cruciate Ligament Reconstruction with Autogenous Patellar Tendon Graft Followed by Accelerated Rehabilitation. A Two- to Nine-Year Followup. Am J Sports Med. 25:786-795, 1997.